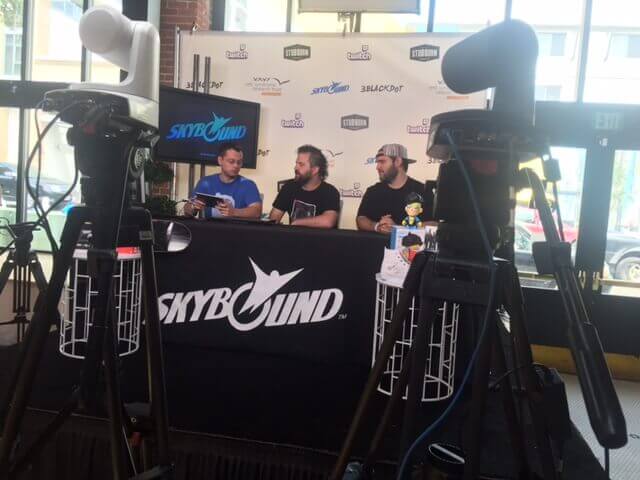 Mayhem at Comic-Con Recap
Aug 01 2016
Now that the dust has finally settled from the Mayhem preview at Comic-Con we're excited to tell you all about it!
As mentioned previously, we partnered with 3BlackDot to showcase a preview of Mayhem at Spark's Gallery. In addition to allowing Comic-Con attendees to check out our game on-site, we also opened up access to the Mayhem beta to anyone who pre-registered onwww.playmayhem.com. Thanks to the support of Youtube and Twitch influencers such as @MiniLaddd, @Terroriser, @Ezekiel_III,@ChimneySwift11, and @TheMsVixen we were able to get hundreds of players to play Mayhem during the event. The feedback has been extremely positive and insightful. Thank you to everyone who tried our beta and please keep the feedback coming by sending your thoughts to feedback@playmayhem.com.     
Another favorite moment of the Mayhem team was when we were showcased as part of the Skybound Twitch Stream and had influencers play against their communities. This was a huge moment for the Chobolabs team since it was our first stream on Twitch.Likewise, it was a treat to watch the first iteration of competitive play from players! Stay tuned for more competitive events where our players can showcase their skills.  
We're now back to being heads down in preparation for our beta and limited territory soft launch. In the meantime, check out our video below that shows people's reactions to Mayhem at Comic-Con.
Best,
– Mayhem Team